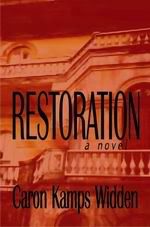 I'd like to introduce a friend of mine to you. Restoration is the first published book from my buddy Caron Kamps Widden. She describes the book as women's literary fiction which I think sums it up very well. It's a very moving story about a man struggling to rebuild his life and restore his house while dealing with everyday kind of problems with teenagers and family that we all face.
I first met Caron at a writer's class held in our local community center. I always remember her because she was the only person who had the nerve to ask the tough question-"well what if my writing really does suck-how will I know and when should I give up?"
I admired her honesty and her wacky sense of humor and always enjoyed the snippets of her work she shared with us along the way. Caron's book was published on June 1st and is available from Hilliard and Harris Publishing www.Hilliardand Harris.com
Caron's website is at www.caronkampswidden.com if you want to pop over there and find out more.
Congratulations, Caron-obviously you can now rest assured that your writing definitely doesn't suck!