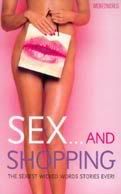 "Sex and Shopping" is released in the U.S. today! I'll have to go and check out my local Borders and see if it's actually in there! Of course you can also order it on amazon.
I'm not actually supposed to be here…Mr Kate and I have a deal not to use our computers over the Xmas break because we've been a bit overloaded and overworked this year and need to actually look at each other and converse like normal folks for a few days. So don't tell him your saw me here, okay? (he's busy building Star Wars lego with son #3)
Just to make things worse, Mr K got me a laptop for Christmas and I can't use it…wah!
I had a disastrous shopping experience for him this year. I lost one present somewhere in the house cos I hid it too quickly and another didn't arrive until today-and then it was the wrong thing-I am usually good at presents but not this year, although I think he liked his Star Wars Mr Potato Head which included Darth Tater and his Father Ted dvd's.
I think the kids all got what they wanted. Difficult to tell with teenage boys sometimes. My daughter got so much it was embarrassing. We kind of panicked at the last minute cos we hadn't got her anything and then went into overkill mode. But as I tell the boys, all her pieces of pink plastic only add up to about the same as one of their expensive gadgets!
I always think about my father at Christmas time. He had a habit of bringing complete strangers home from the pub to share our holiday festivities because he didn't want them to be alone. He died eighteen years ago, just before my eldest son was born and I still miss him.
My family have so much to look forward to next year. Our eldest son will graduate high school just as our daughter starts kindergarten. I keep having nightmares that I'll always been driving to school and then I wake up and realize it's true! Writing- wise I have a lot to accomplish as well. But I'm not complaining…not many people get to sit at a computer and dream and get paid for it.
Sending best wishes to everyone for a great 2007!