On the Steamy Side by Louisa Edwards hits bookstores today!
She's Never Met A Man So Mouth-Watering
When Lilah Jane Tunkle fled her dull life in Virginia for the bright lights of New York City, she didn't expect to wind up a nanny to a gorgeous celebrity chef's ten-year-old son. Working for the delectable Devon Sparks is a sure-fire recipe for disaster, especially after Lilah gets a tantalizing taste of his perfectly seasoned kisses . . .
And He Can't Resist Her Down-Home Spice
Devon's not sure he can handle one more surprise ingredient in his life—he left his popular TV show, his culinary reputation is on the line, and now the son he barely knows is back for seconds. Lilah's Southern sass is supposed to keep the boy in line, but soon enough she's teaching Devon a thing or two about homespun food . . . and turning up the heat.
This is the second Recipe for Love novel, and it's packed with just as much delicious food, restaurant drama, and hot chefs as my debut culinary romance, Can't Stand the Heat!
Here's a little taste to get your mouth watering for more.
Now available at Amazon, Borders, B&N, BooksAMillion, Indiebound, and Target!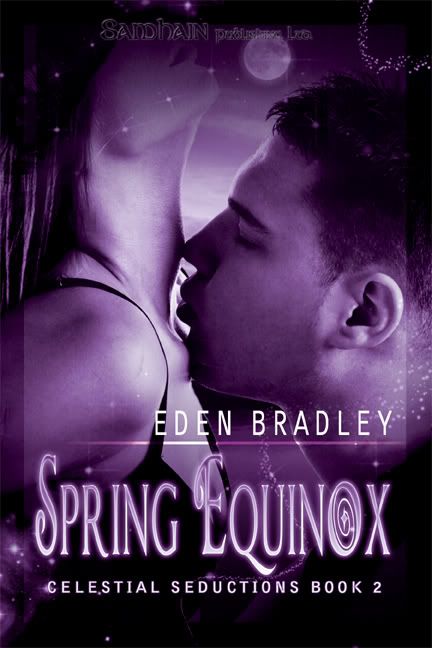 My latest book from Samhain, SPRING EQUINOX, is out today! This is Book Two in my Celestial Seductions series, a four-book seasonal collection of contemporary erotic romance novellas, and each one has a special little twist.You can find Book One, WINTER SOLSTICE, at Samhain, on MBAM and on Amazon.
But back to SPRING EQUINOX. Would you like a little peek?

Once upon a time, two young lovers vowed to reunite…
Celestial Seductions, Book 2
After a bitter divorce, Isabel Asher returns to Isla de Margarita to find the only man she's ever truly loved. Twelve years ago, on her eighteenth birthday, they made a pact to meet…if they both were free. Now she waits, wondering if Rafael Cruz will be her every fantasy come to life…or just a foolish dream.
Rafael never forgot their summer of love all those years ago. Since then, no other woman has measured up to the memory of Isabel in his arms. Their chemistry is still stunning, the sex is sizzling. The power of their memories is overwhelming. Yet it's too soon to tell if she wants to be with him as much as he wants her.
As her time on the island grows short, their sensual play heats up, and includes a night with Rafael's best friend. But they must decide if their passionate reunion is simply a celebration of the past…or a new beginning for lasting love.
* * *

To celebrate my release, I'm running a contest and posting an excerpt over on The Smutketeers blog, so come on by and check it out!